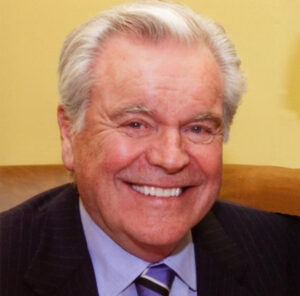 Robert Wagner is one of the most popular and successful stars in the entertainment industry, boasting three hit television series and an impressive list of both feature and television films.  He has acted in over 100 films and made hundreds of television appearances in his 70+ year career.  
As a young man under contract to 20
th
Century Fox, Robert Wagner was cast by Darryl F. Zanuck in
With a Song in My Heart
. Although the part lasted a scant minute, his performance as a crippled soldier responding to the song of Susan Hayward's Jane Froman brought immediate public reaction to the studio. Spencer Tracy saw his performance in
Beneath the Twelve Mile Reef
and requested Wagner for the role of his son in
Broken Lance
. Tracy was so impressed with Wagner, he cast him again as his brother in
The Mountain
. A small sample of Wagner's numerous film credits includes
Dragon: The Bruce Lee Story
,
The Pink Panther
,
The Curse of the Pink Panther
,
Midway
,
The Towering Inferno
,
Banning
,
Harper
,
Prince Valiant
,
The True Story of Jesse James
, and
All the Fine Young Cannibals
. He starred with Joanne Woodward in her film debut,
A Kiss Before Dying.
  Antonio Banderas directed Wagner in
Crazy in Alabama
.  In the 1990s, he was introduced to a new legion of fans with the role of Number Two, the villainous henchman to Dr. Evil, the archenemy of Mike Myers' title character in the
Austin Powers
trilogy. 
On television, Wagner starred in three long-running series.  He was nominated for an Emmy for his role as suave cat-burglar Alexander Mundy in
It Takes a Thief
with
Malachi Throne and
Fred Astaire.  He portrayed con man-turned-detective Pete Ryan in
Switch
with Eddie Albert and Sharon Gless.  And Wagner became a fan favorite as the debonair and charming millionaire/amateur detective Jonathan Hart in
Hart to Hart
with Stefanie Powers. Ten years after the end of Hart to Hart, Wagner served as executive producer for eight highly rated movies based on the series (five for NBC and three for the Family Channel.) Over the past decade, Wagner has introduced himself to a new generation of fans by making numerous guest-starring appearances on the number one rated television series,
NCIS,
portraying Anthony DiNozzo, Sr.
Other illustrious television performances include starring with Jaclyn Smith in the top-rated miniseries,
Windmills of the Gods
— based on Sidney Sheldon's best-selling novel; Angie Dickinson in the miniseries
Pearl
; Audrey Hepburn in
Love Among Thieves
; Lesley Anne Down in
Indiscreet;
and Elizabeth Taylor in
There Must Be a Pony
, which he also executive-produced. He appeared alongside such notable names as Philip Casnoff, Kyle Chandler, Cathy Lee Crosby, Leslie-Ann Down, and Billy Dee Williams in
North and South: Book 3, Heaven and Hell
.  Sir Laurence Olivier chose Wagner to star with him in the television adaptation of
Cat on a Hot Tin Roof. 
Wagner's wife, the late Natalie Wood, co-starred with them. Other notable television performances include
This Gun for Hire
, Danielle Steel's
Jewels,
To Catch a King,
and
A Dennis the Menace Christmas,
in which he portrayed Mr. Wilson. 
In addition to his film and television ventures, Robert Wagner toured the world performing in A.R. Gurney's
Love Letters
with Stefanie Powers.  They were the first to launch the tour internationally. After his tour with Powers ended, Wagner enjoyed the play so much, he continued performing it at charity events and around the world with his wife, actress Jill St. John.
Away from the acting world, Robert Wagner has long been a fan of golf and boasted a five handicap. He once beat professional golfer  Sam Snead in a head-to-head competition.  Footage of this win is posted in the Video section of this page under Additional Videos. 
RJ, as his family and friends call him, currently resides in Aspen with Jill St. John, his wife of over 30 years. In addition to visiting with his numerous friends around the world, RJ enjoys spending time with family: his wife, Jill; his three daughters, Katie (television personality), Natasha (actress/author), and Courtney (jewelry designer); his two grandchildren, Riley (Katie's son) and Clover (Natasha's daughter); and his stepson, Josh.  Wagner was instrumental in raising Josh and his brother, the late Peter Donen, with their mother, the late Marion Marshall. He is also the father of an adorable fur- baby, a German Shepard, named Duke.