ADDED 12/31/19 – Hollywood Autograph Show
RJ is schedule to attend on 01/31/20 – 02/01/20 in Los Angeles, Ca. See website for more information.
ADDED 7/16/19 – TV Guide
Week of 7/22/19 – 8/4/19 – RJ and Stefanie are on the cover of TV Guide to celebrate the 40th anniversary of the release of Hart to Hart. Get your copy today at your local grocery store.
Click on the TV Guide for a sneak peak of the article.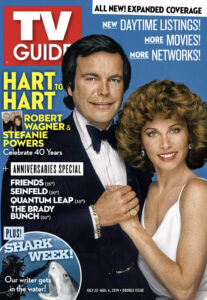 ADDED 5/6/19 – Gilbert Gottfried Podcast
RJ did a podcast with Gilbert Gottfried a couple of weeks ago. This is a FANTASTIC interview and very funny. Enjoy
---
AUTOGRAPH SIGNING DATES
:
There are currently no dates scheduled.
---
---
Autograph Requests:
If you would like an autographed picture, please send a self-addressed stamped envelope to the address below.
Lobo Productions
c/o J. Sloan
PO Box 202408
Denver, Colorado 80220
     Please note: Any fan mail sent to RJ's personal residence will not be responded to. 
The photo size is 8×10, so please make sure the envelope is correct size.
It can take up to a year to get an autograph request fulfilled, please be patient.